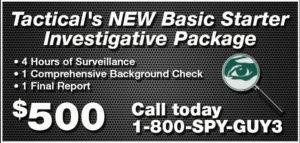 $500.00 TACTICAL'S BASIC STARTER INVESTIGATIVE PACKAGE
You can pay with a credit card and have your case worked in a Metro area in Louisiana that is listed below. Save money and time with this new package.
Qualifying Case locations must be in the following metro areas of Louisiana: Lake Charles, Lafayette, Baton Rouge, Denham Springs, Shreveport, Monroe, Ruston, Natchitoches, New Orleans and Metairie. If your area is not listed please contact us and we can check to see if we can cover your area before you book and pay with us online.
This is our starter Basic Investigative Package. It can be used for domestic cases, adultery, child custody, child and adult welfare checks, employee surveillance, workers comp-injury case, etc.
This package includes 4 hours of onsite surveillance. It has be in a metro area on our list. Travel time can not exceed 25 minutes to and from surveillance location. The first 45 miles are free. Mileage rates after the first 45 miles are charged at $0.80 per mile. This package also includes a basic profile background report and a written report if requested.
You can add additional hours onto surveillance package after the initial four hours are utilized at the rate of $80.00 per hour during the same trip.
To qualify for this rate package, it must be purchased online by credit card or PayPal and paid in full to be booked.
Usually within one hour or less from purchasing your investigative package online, one of Tactical's investigators will call you to schedule the case.